ObjectPrint Desktop Client
---
With ObjectPrint Desktop Client, the user connects to an ObjectPrint server, which provides information on current user/computer print activities with Integrated Windows Authentication and Host Authentication. As such, it is no longer necessary to enter a name or password into your web browser every time.
Other Features:
• Control the current balance including accepted and rejected print jobs
• Increase the balance through prepaid payment cards
• Use secure SSL connections
• Multilingual support
ObjectPrint Desktop Client Installation:
1. Download the latest ObjectPrint Desktop Client from http://www/fitosoft.com/downloads and run opclientplusXX_32.exe
2. Follow the installation instructions that appear on the screen
3. ObjectPrint Desktop Client will be installed on your computer
4. After the ObjectPrint Client is set up, it will minimize itself to the System Tray (the bottom-right corner of your screen). To open the program again, click on the icon in the System Tray.

5. ObjectPrint Desktop Client will start automatically once the installation is complete. If this is your first time running ObjectPrint Desktop Client, the software will help you to get started by popping up the Add ObjectPrint Server dialog.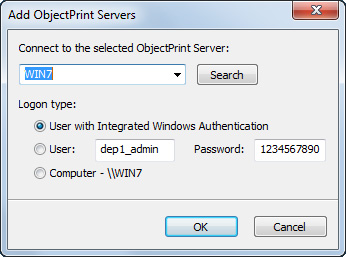 Server Name – Enter a name for the ObjectPrint Server you are connecting to.
Choose Logon type: User with Integrated Windows Authentication, with User name and password and Computer (Host) Authentication.
Click "OK" when finished. The program will now test the connection to the Server.
If the connection is working, a successful message will appear.
If the connection is not working, an error message will appear. You will need to go back and verify your settings.

ObjectPrint Desktop Client uses port 1563 (TCP). This port must be accessible from the Internet on the machine running ObjectPrint Desktop Client.
Uninstall:
Open Add/Remove Programs and select ObjectPrint Desktop Client. Click on the Remove button or click the Start button and select "All Programs"->"ObjectPrint Desktop Client"->"Uninstall".
---
Using the ObjectPrint Desktop Client
Main Screen Display: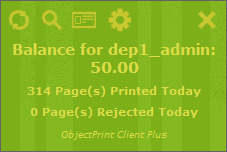 ObjectPrint Desktop Client shows the name, status, balance, count of pages printed/rejected and the cost.
ObjectPrint Client Commands
• Increase Balance – Increase the balance of the current user or computer using a prepaid card code
• Settings - Change an existing ObjectPrint Server and Logon type
• Close - Hide ObjectPrint Desktop Client in System Tray
• Refresh - Refresh the current state of printing for a user or a computer
• History - Show detailed information

To see the user/computer detailed log, click the "History"

button: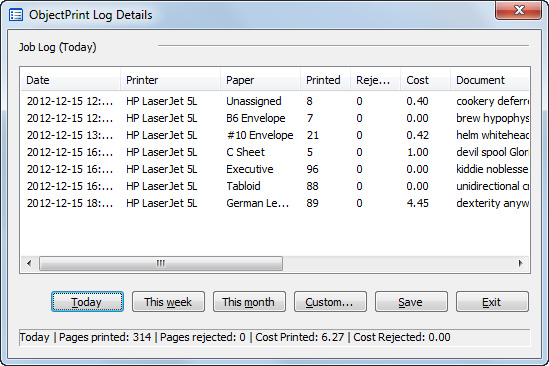 If you have a valid prepaid card, type your set number into the space provided, select the appropriate account and ObjectPrint Server and click on the "OK" button to update.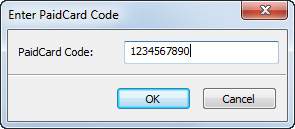 If you wish to enable ObjectPrint Desktop Client for this server, check 'Enable ObjectPrint Desktop Client' in General Settings.
Click 'Enable Prepaid cards' to enable prepaid cards.